In Cambodia, many girls and young women are restricted from pursuing higher education because of social gender norms. Parents are often concerned that if their daughters lived away from home to study, they would be distracted or face abuse from men.
Samoeun is a 28-year-old woman working tirelessly to change this social norm and is encouraging young women to chase higher education and achieve their dreams.
Samoeun comes from a rural community in the Kratie Province and is part of the Mil ethnic group, a minority in the region. As a child, she dreamt of being a teacher, so she enrolled herself at a secondary school 80km from her home. Samoeun lived with her older sister while attending the school. But when their mother became ill, Samoeun was forced to return home only having completed the ninth grade.
She was devastated to have to put her dreams of becoming a teacher on hold. She went to work selling fried bananas and had plans to move to the city and find a job as a garment worker to support her family. "If I couldn't achieve my own study goals, I wanted my youngest sister to be able to study at a higher level than I could, so I needed to make money to support her," she said.
Before she moved to the city, she saw an advertisement for ChildFund Cambodia's program training preschool teachers in her neighbourhood. Naturally, she leapt at the opportunity. "I was then chosen through a series of steps. I was so glad to be able to teach and earn money. I could make a living and are for my mother in my hometown."
ChildFund supported Samoeun and 20 other volunteers with the necessary training so that they could become government-recognised teachers. Through this process she became a mentor to other teachers in her community.
She also advocates to her peers in the Mil ethnic group to send their daughters to school and support them in achieving a higher level of education – this starts with preschool.
"Previously, people did not appreciate preschool. With the help of ChildFund, we ran several campaigns to educate parents about the value of preschool for their children," said Samoeun.
ChildFund also built a new preschool in her community. Between this and the education sessions, more parents are sending their children to preschool.
One mother in the community, Sreypov said: I am delighted to see my children learn and grow while attending preschool, and it means I can do other duties while my children are in school. I am happy to see the new pre-school building and so is my daughter."
"I feel like I'm having a lot of fun and learning new things from my cute instructor," said Yuri, a very cute 5-year-old girl who appears to be really engaged in her class.
Samoeun's years of effort has meant that there has been progress. More girls in her town have gone on to study at a higher level in other provinces.
"You cannot underestimate your children, you have let them to fly like a bird," said Samouen when asked why community members should allow their daughters to study away from home.
Samoeun smiles talking about what she has accomplished. "I never imagined I'd be able to achieve what I have."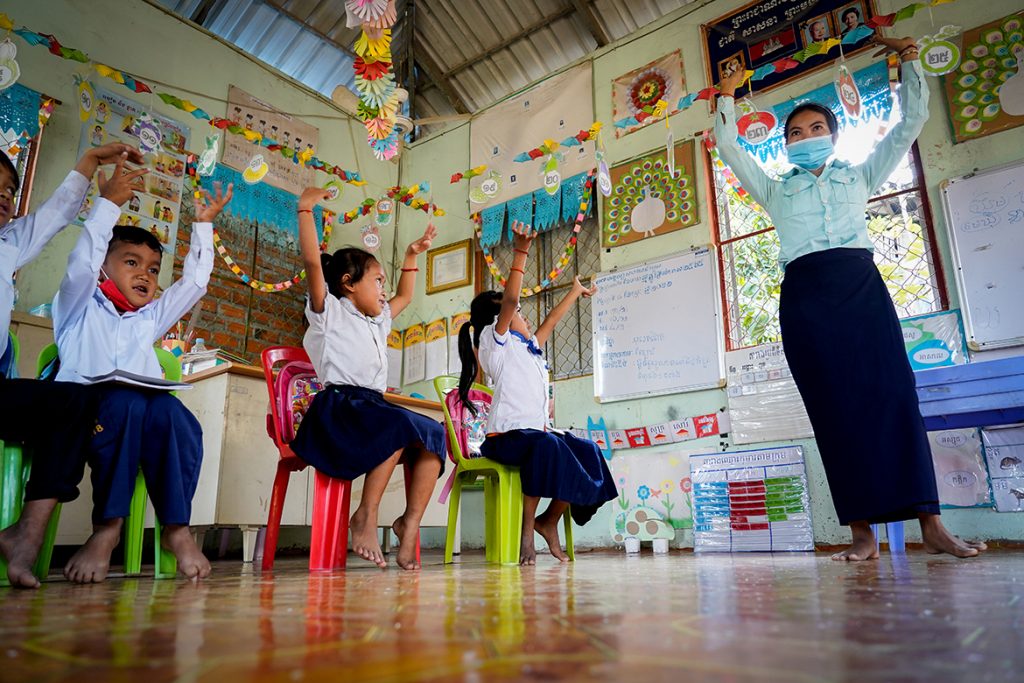 ChildFund is working with local organisations to train preschool teachers and build the necessary facilities so children can access preschool education in rural parts of Cambodia.